When R.E.M. first came out, there was some discussion about whether we were supposed to call them R.E.M. or /rem/ like it was just a word. I already knew the phrase "rapid eye movement" at that point in my life. An article I read early on said that their M stood for murmur though. So "rapid eye murmur," so I thought it all made sense when their album "Murmur" came out, although for years since, noone has bothered to talk about the letters anymore. They got too famous for it to matter.
I grew up in Atlanta. I was around 12 when I first heard of R.E.M. because my friend Molly's older sister was a college student at UGA in Athens. I remember Molly putting "Wolves, Lower" on the record player and thinking the whole world had changed. I was sitting on her top bunk at the time. It was the middle of the day – probably a weekend. Her room was cocoa brown. I remember thinking it was really radical when she picked that color out. What little girl picks out cocoa?! Molly and I had a falling out after an unfortunate incident which I'm sure my mother and Molly would prefer I not rehash. All water under the bridge, but sadly, it was not Molly who got to go see R.E.M. with me when they came to The Agora Ballroom (across from the Fabulous Fox in May 1983). The Agora has long since burned, but sentimental me still has the ticket stub:
I went with my friend Heather. It was a great show. What I remember most was standing right up against the stage with my head up under the curtain before the gig started and waving down "the lead singer" and handing him a little note written on the back of a Psycho 3 ad that said I was really proud they were from Georgia because I thought they were so good. He was really shy then. He was a shy performer, too, and he spent a lot of time dancing with his back to the audience. I also remember this woman with really bleached out hair and her Asian boyfriend who was much shorter and wearing fatigues (for fashion) making out like THE WHOLE TIME and being kinda shocked by that. I was riveted by the show. It made such an impression on me.
OK, so flash forward a few years. In the interim, went and saw R.E.M. every time they came to town, and when they started getting too big for the Fabulous Fox, they resisted moving up to The Omni, and they'd play 5 nights at the Fox, and I'd save up and go every night. I was a superfan. I don't have every stub, but here are a bunch: R.E.M. gig tickets
Fables of the Reconstruction of the Fables…
When it was first released, just as there was some confusion about how to say R.E.M., there was some intention vagueness about the name of the album. With time, it definitely became known more as Fables of the Reconstruction, but in the beginning, it was unclear. Just did a little research, and found this in the Wikipedia article:
On the vinyl release [which is all we had back then!], side one was labeled the "A side" and side two "Another side." The "A side" label bore the title, Fables of the Reconstruction, while "Another side" bore the title, Reconstruction of the Fables.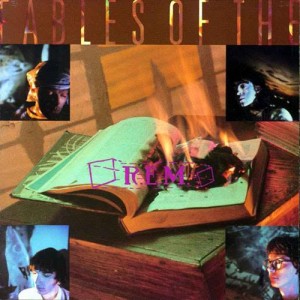 Here's what I remember. I don't know if this will be of use to anyone besides me, but I can't get it out of my head. Fables came out in the summer, when my high school boyfriend was off at the Governor's Honors Program in Valdosta. I was beside myself with sadness that he'd found a girl of interest there (we'd been together about a year and a half at this point). I was taking this stupid summer class because I was trying to do both the college prep curriculum and the performing arts curriculum. It was history, and it was at this snooty private school, which wasn't my scene. I was staging a minor hunger strike about the whole other girl thing and was mostly living on Breton crackers, lime Perrier, and little hunks of mozzarella cheese (I was 15. Don't judge!). Wimbledon was on. I thought Boris Becker was cute. That summer was kind of a stinker, but the one thing I remember lifting me up was Fables.
I was 15 then. I'm 40 now. I imagined I'd grow up and change a lot, but I'm still just me. I imagined that 40 year-old Abby would be quite different from 15 year-old Abby. I feel like there's this complete linearity that I'm not sure is the experience everyone has. I think it isn't. Anyway, I think I like it. And I know I still like Fables. The album is 25 years old. It's been remastered. I don't think there was anything wrong with it, but OK, I'll take it. There are some outtakes that sound good on the Amazon samples. How can I not get it? 15 year-old Abby would be pleased, I think.
Filed under:
Music
,
Stories From My Life
—
6 Comments »